Funding for schools continues into 2020!!!!! 
Book winter/spring dates for 2019-20 school year now
Student days, parent sessions, and P.D. Days.
Vaping
Due to the recent medical issues that have arisen in the media both in the US and Canada I have moved the information about vaping from my session, "The Truth About Cannabis and other Drugs" and added it to the most requested session, "Life's Challenges in Secondary School."  This decision was done based on how to get this information to the students in the quickest amount of time.
Initially, ENDS (Electronic Nicotine Delivery Systems) were developed to assist smokers in their efforts to stop smoking.  Research indicated that if this occurred within one month then it was a success.  If the use of ENDS went longer than a month then the user was simply changing one addiction for another.
As of October 15, 2019, 1,479 lung injury cases associated with the use of e-cigarette, or vaping, products have been reported to CDC from 49 states in the US and 33 deaths in 24 states.
Data on age and sex was only acquired on 1,358 of these people.
70% of patients are male.
79% of patients are under 35 years old.
By age group category:
15% of patients are under 18 years old;
21% of patients are 18 to 20 years old;
18% of patients are 21 to 24 years old;
25% of patients are 25 to 34 years old; and
21% of patients are 35 years or older.
In Canada, several lung related issues have been reported with no confirmed deaths, yet.
As many of us are aware nicotine is the addictive quality of tobacco and vaping.  Nicotine is a stimulant drug that speeds up the messages travelling between the brain and body.  It is at least as difficult to give up as heroin.
Nicotine salt is a chemical formulation of nicotine that decreases its harshness, allowing vapers to comfortably get more nicotine while inhaling less vapor.  This is the reason you see nicotine strengths jumping from 3 mg and 6 mg to 25 mg or even 60 mg in online shops.
A study last year in Alberta indicated that people that vape are twice as likely to start smoking and the first time in a number of years the rate of smokers increased.
A Little Vaping Rant:
I would suggest that if you were to relate the first death that occurred due to tobacco use to the first death due to vaping, the timeline would be significantly shorter with vaping.  If this is true, then we will witness multiple deaths every week in the US for many years to come and shortly a smaller number of weekly deaths in Canada.
A study done a few years ago with mice and vaping showed that the inner lining of the lungs was destroyed with vaping.  This occurred whether there was nicotine in the solution or no nicotine.  Research is showing that when the liquid is heated it is creating new chemicals that were not in the original solution.
With this in mind please consider the increased medical costs associate with vaping.  In 2012, Canada estimated tobacco use cost tax payers $6.5 billion in direct health care costs and $16.2 billion in total economic costs, including hospital costs, physicians, and prescription medications.  What will this cost be for vaping?  The question that remains to be asked is why?  Why does any government sanction a product that has already been shown to create this damage in people, including deaths in the US, of all ages.  If it is strictly used to assist someone with not smoking that is a victory.  However, to put a plan in place to reduce youth usage when there should not be any usage at all, with the above exception, seems to be a neglectful plan.
I do expand on the above information when I am speaking in schools.  I look forward to any opportunity of working in your communities.
Scholarship Recipient
Another year and a few more doors have opened with a few successes as well.  In June, Jacqueline and I had the pleasure of driving to Medicine Hat, AB to meet with a Graduating student whom was driving 4.0 hours from Biggar, SK to meet with us.  The request was to do a video interview based on her experience in the Part 2 small group session.  She did not realize she was about to receive a cheque for $2,165.00 from the charity, "Thumb Switch for Life" that my wife and I established in 2017 to go towards her fees at the University of Regina.  Savana is the first of many students that will be receiving scholarships from our charity over the years to come.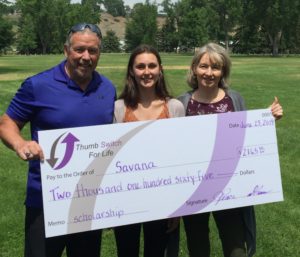 If you or anyone you knows would like to assist us in making life easier for some students through this charity both through scholarships and offsetting costs to schools, contact us so we can have further conversation to ensure that this works for all involved.  See the charities latest initiative 247 – 365 later in this newsletter.
Upcoming Event
I have the honour of presenting at the 6th annual Fast and Female Summit on November 3rd at WinSport in Calgary.  I will be speaking to coaches and parents of young female athletes.  If you have not heard of this event please feel free to check it out and register.  www.fastandfemale.com
Welcome:
We would like to welcome and thank ADMCo for getting involved in the above initiative.  Jordan, Nathan and Jon see value in the work we do and are stepping up to support the youth of Canada.  ADMCo (Alberta Digital Mining Company Inc.) is an Alberta based cryptocurrency mining company that is focused on securing bitcoin/altcoin networks to help facilitate the blockchain revolution.  Their involvement will increase the scholarship funds available for the winning student(s) and assist in decreasing the fees to qualifying schools.
We would also like to Welcome Brittany Veenhuysen to our team.  She will be working with me on the Social Media aspect of the business.  I am really excited to continue my work with Brittany as she was also the editor of my book.
New Initiative for Thumb Switch Charity:
A new video describing "Thumb Switch" has been added to the charity website (click here) for anyone who does not know what a "thumb switch" means.
A new initiative was launched in March called 24/7 – 365.  This relates to what many people reference as 24 hours a day, 7 days a week and 365 days a year.  The challenge is to raise money for scholarships and assist qualified schools funding for qualified youth programs.
24/7 – 24 corporations, businesses, foundations, families offer support for $700.00 to $7000.00.  When this is achieved it would allow scholarships for deserving students to go from $1,680.00 to $16,800.00 and would allow qualified schools access to $250.00 – $750.00 per day for youth programs.
365 – $300.00 from 65 businesses, foundations, families or individuals.  This would create an additional $1,950.00 for scholarships and qualified schools access to $250.00 per day for youth programs.
I hope you will spread the word and align yourself or company in this very worthwhile cause.
Gaming:
GRAND THEFT AUTO – San Andreas:  Rated 18+
If you have attended one of my parent sessions this is the GTA game I talk about during the parent session where you can kill up to 12 police officers, put on the uniform of a police officer, grab the keys to a police car, hop in the car and drive away.  The case I refer to involved Devin Moore who stated in the police station, "Life is a video game. You've got to die sometime." He then grabbed the handgun of one of the police officers and shot its owner, another police officer and a dispatcher in a Fayette, Alabama police station before getting into the police car and driving away.  Sentenced to death by lethal injection and is presently on death row.
Review: Common Sense Media
Parents need to know that this game is raunchy and violent and portrays just about every deviant act that a criminal could think of in full, living 3-D graphics. Players participate in drive-by shootings, deliver prostitutes to their johns, kill mob bosses, hijack vehicles, and learn to operate within the criminal world.
The star rating given to this game is based on quality of gameplay within this adult genre of video gaming and is not an endorsement of the violence within the game.
In this game players must run, gun, and drive through a bustling city to perform missions such as knocking off a mob boss or preventing a truckload of ammunition from reaching its destination. Gamers play as Carl "CJ" Johnson, a young man who returns to the slums to avenge his mother's murder with the help of his old gang. New gameplay features to the Grand Theft Auto series require players to perfect certain skills over time, such as hand-to-hand combat and driving. You must also earn "respect" with each mission; the more you gain, the more likely gang members will help you on missions.
Without question, Grand Theft Auto: San Andreas isn't for kids because of its graphic violence, sex, and coarse language, but mature fans of this 32 million-unit-selling franchise who want to know if this sequel lives up to its hype, the answer is a resounding yes. Few video games pull off everything successfully, but San Andreas does so in spades. Indeed, this mature-rated game may be deemed offensive for its depiction of life as a "gangbanger," but if taken for what it is — an interactive action-adventure for adult gamers — you won't find a title that's more difficult to put down.
A decision for parents to make now or in the future depending on the age of your children.
NEW ADDITION:
"Parenting with Eyes Wide Open" was finished and printed in July, 2018.  At the request of parents, "Your Thumb Switch Study Guide to Permanent Change" has been developed to further assist parents.  This will provide a platform for parents to come together and discuss what seems to work and what doesn't within their family and communities.
The Parent Study Guide will be available starting on November 1, 2019 through the website www.lifesynergy4youth.com .  The price is $14.95 per Study Guide, plus GST and $10.00 S&H for one or multiples of two books.   It has been suggested that each parent should have their own study guide to create a deeper and more meaningful conversation after each chapter is completed.  As is with the original book, the best deal will be at the parent sessions. It will be $10.00 per book, GST included.  The original book will still be available at parent sessions for $20.00 per book, GST included.
Testimonials of the month:
After going through the Thumb Switch Study Guide together, we noticed it opened the door to a lot of communication about our children regarding topics we hadn't previously considered. It got us thinking, feeling and talking, about things we notice with each of our children, and in turn how we have handled it in the past and/or could handle it in the future. It encouraged us to look ahead to situations that are in our not so distant future, that we hadn't even begun to consider, and make preparations for how we plan to handle them.
Our kids fill our days with busy schedules and add an element of chaos. We so often take the stance of "divide and conquer" just to share the load and make sure everyone's needs are met. Reviewing this together gave us the opportunity to reflect on our parenting strategies as a team. We were able to share ideas and honestly discuss what we felt was effective and what needed to change. We immediately noticed growth within our relationship as a couple. We found that the prompts in the Thumb Switch guide led us into a conversation we hadn't had before. Sharing the common goal of safer, happier, healthier children enabled through our support and actions made us feel connected in a way we hadn't felt prior to having this conversation.  Thanks for the opportunity!
Robin – Acting Lieutenant, Calgary Fire Department (Dad) and Angie – Financial Planner (Mom)