Penn State – Is "Life Synergy for Youth" powerful and impactful after Grade 12?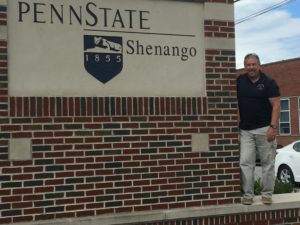 Over the course of almost 20 years presenting to Canadian high schools, I have received e-mails of gratitude from several students that are now in university or in the workplace.  Some have been e-mailed up to eight years after graduation, comments included mentions of "thumb switches", senses of learned empathy, and overall, how our experience together had a lasting effect.
During a recent trip to Pennsylvania, I was reminded of how important impactful experiences are, and wondered if my presentations would have an effect in a post-secondary environment in the U.S.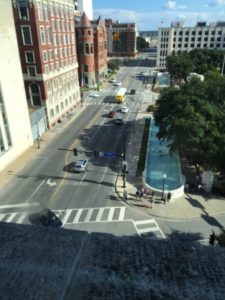 I travelled to Pittsburgh, the last week of August to work at three different Penn State campuses.  I had a nine hour layover in Dallas so rather than sit in the airport I decided to go into Dallas and visit some major attractions.
The first was the Dallas Holocaust Museum which is one of several in the U.S.  It was an overwhelming experience for me.  I have heard people refer to Adolph Hitler as a bully and after going through the museum, I understand how people might draw that conclusion: A huge power figure surrounded by manipulative wannabe friends and fearful bystanders.  But he was beyond a bully.  In my opinion, he was a terrorist and his goal was the total extinction of Jewish people. My thoughts were flooded by the sheer numbers of lives affected by the Holocaust.
The second was to the 6th floor of the book depository where Lee Harvey Oswald shot JFK (JF Kennedy). The corner area of the room where Oswald shot from is protected by glass and recreated from police photos.  Up on the 7th floor you can view from the window directly above where Oswald perched that day. When I was leaving I took pictures of the infamous Grassy Knoll. It was a full day of walking through history, being in the same spots I've only ever seen on TV and in movies – an experience I will never forget. And I hadn't made it to Pittsburgh yet.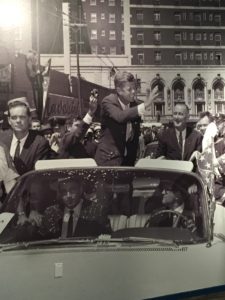 The purpose of attending three Penn State campuses was twofold. One was to work with LaVarr McBride, the program coordinator and internship supervisor for the Administration of Justice program at these Penn State campuses; and the other was to explore the possibilities of putting together a team that will go into schools after schools-shootings. There are teams that attend right after the tragedy but nothing six months later to deal with post traumatic symptoms and its effects. I wanted LaVarr to see and experience the work that I do, and to gauge the reaction and response of university students in the U.S.
After LaVarr experienced three days, of which included the Life's Challenges assembly, a parent presentation and a Life's Challenges small group session working with freshmen and seniors destined to be in a law enforcement capacity, he had some fabulous feedback and additional opportunities for me.
So impressed with the program contents, LaVarr plans to champion and put forward to Penn State University Administration a move to implement Life Synergy for Youth programs for freshmen, in order to set them up for success and relieve some of the pressures they are facing each day on campus.  We call them university students, but like a staff member at Penn State said, "The only difference between Grade 12 and university is three months and two big parties".
Three weeks after my return from Pittsburgh I received a call from LaVarr.   He told me the presentation effect had been amazing: the students are doing things they have never done before; staying after class, talking for 10 – 15 minutes just to check in and see how each other were doing, high fiving each other in the hallways, connections had been made, empathy shared.  All of  which did not occur prior to their participation in Life's Challenges.
When I asked him if he had received the reflection papers back from the students, he had to pause for a moment before he said he did but could not read them to me as he would become too emotional. The reflections were filled with: how they wished that this program was in their school when they attended, how everyone needs to experience this, that it was extremely releasing and relieving to see that they are not alone.
As a facilitator of youth programming, I always hope our content has an impact and that the experience has a lasting positive effect on students. Just like the life changing impact the Museums I visited have had on me, we want our young people to experience life, not just survive it. If I have an opportunity to provide our programming to more people, the effects will be even more impactful. I have not received them yet, but I look forward to viewing the reflection papers and when I do, I trust that some will echo Canadian student's reactions.
Peace out.
Coming soon: 
Reflection papers from Penn State University.
---
Did you know?
Pastor Murray Swalm has just been added to website as one of The Advisors. Murray believes in Life Synergy for Youth and wants to help in any way he can. If you know any of the people I call Advisors, please say thank you, as I trust them and go to them for advice.
We're thinking of starting a crowd funding page for Life Synergy for Youth on behalf of all schools. 100% of the funds raised would be used to subsidize the costs to the schools.  If you have any ideas or would like to assist in making this a reality please let me know.
I have created a Gold Standard Hat for students that come forward and have the courage to identify a peer that is having suicidal thoughts.  The hat sports the Life Synergy for Youth logo in Gold with "Saved 1" on the back.  I wanted to recognize youth that are standing up and stepping up for fellow students.  The first recipient lives in Northern Saskatchewan and when he was presented with the hat he became emotional.  We need to give the youth permission to talk about their feelings in safety.
---
Family time:
One of the issues youth are expressing on a regular basis is dad's minimal involvement in their lives to the level they wish.  Everyone can be a father but not everyone is a dad.  Here are somethings to think about:
A close, warm relationship with girls results in higher self-confidence, especially in math.  A greater role in child rearing and more father-daughter affection correlates with a later onset of puberty which in turn reduces the chances of depression, alcohol consumption, and disturbed body image.  When girls lack a strong father figure there is potential for increased sexual activity and teenage pregnancy.
Spending quality time together just has to be something where you can engage in conversation.  How about hitting the coffee shop for a hot chocolate after her game, where you cheered and encouraged her? Raking leaves together and a trip to the ice cream store afterwards.  Got a dog you could take for a walk? Have you shown interest in her hobbies and talked about it?
Studies indicate that boys will marry someone like their mother and girls will marry someone like their dad.  Question you have to ask yourself is, are you the man or woman that you want your daughter or son to marry?  If not then it is time to make some changes.
Research has shown that in many cases a man's identity is in his job and in many cases a woman's identity is in the family.  My challenge to all men that attend the parent session is to take a percentage of the time they are spending on their careers and place it into their families.  You would never believe the tears that are shed by students who want to spend more time with their dads.  Gentlemen, we signed up to be a dad, we need to step up and be the best dad we can be.  Our children need it and they deserve it.
---
Testimonial of the month:
Dear Mr. Dwayne Peace,
You came to my school sometime in April this year. I had recently gotten out of the hospital after a failed suicide attempt, and then a relapse of self-harm. When I met you I was a complete mess and that's an understatement. I found out I was bipolar. I struggled with my road to recovery. The worst was the panic and anxiety attacks, I would hit myself, pull my hair out and scream that I wanted to die.
Looking at me now you wouldn't think I was the same person. It was February 28th 2016 when I tried to kill myself, it is now August 24th 2016. That's almost 6 months. I have goals, I have a future, most importantly, I have confidence. I`m not afraid anymore.
When I first heard you were speaking at my school I thought "oh great another person hear to preach at me about how I`m worth it, how much I`m loved…. blah blah blah" I`m sorry to say but at first I was not interested at all. But when I met you, I knew something different was going to happen. Throughout your presentation you talked about drinking, drugs, mental illness and self-harm. All of these things applied to me (notice I used past tense) I did drink, smoke pot and let's just say I wasn't the most stable in the mental department. This all changed when I moved into my Grandparents house. You also talked about self-worth, which again related to me. I wasn't confident, I constantly wanted to impress others, I wanted to be skinny so guys would pay attention to me, I wanted to be smart so my parents would love me.
Your presentation set off a spark, I started working harder. Not for the people around me, friends, family, boys, no I was doing it for me. Because finally I discovered my voice, no longer would I let people walk all over me, let my parents judge me and criticize me, or let boys decide my worth on a 1-10 scale. I learned how to stick up for myself and what I believe in, so when people make jokes about mental illness, self-harm, the handicapable….I no longer hide with nervous laughter. I stick up for those who don't have a voice or haven't found there's yet.
I believe in myself, I can do anything I put my mind to. My plans for the future change often, but I have found a few that might become a reality.
go to Vancouver acting school, school creative, study as an actor, give it a year. if nothing works out I will go to cold lake and train in the military from there on become a doctor.
study in criminal behavior and become a police officer
become a journalist and work as a professional speaker
become a counsellor and possibly a psychiatrist
My dreams may be mediocre or average but I don't care because each one has something I`m passionate about involved. This is my story and I thought since you are one of the most inspirational people I have ever had the pleasure of talking to. You helped me and believed in me when even I didn't.
After your Presentation, when everyone was gone. I was crying, when I came up to you, you hugged me and told me to stay strong and never give up. Today I live by those words.
I have gotten my life under control. My anxiety is still there of course, and so is my bipolar…..but now I don`t let it control me or the decisions I make.
Thank you so much Mr. Peace,
I'll keep in touch
Sincerely,
The girl who was inspired