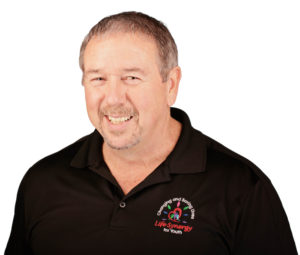 Dwayne Peace is a retired 25–year member of the Calgary Police Service where he spent the last seven years of his career as a School Resource Officer (SRO). Dwayne has a special talent for working with youth, and a passion for helping to make a difference in their lives.  Please read some of the Testimonials to see what others are saying.
Dwayne has spoken to over 500,000 students since 1997 and has had hundreds of students come forward to seek assistance for their issues including thoughts of suicide, self harm and eating disorders.  A Principal at a large urban high school (over 1,500 students) stated, "What Dwayne was able to do was to get everyone in the school going in the same direction".
Requests for his dynamic presentations have come from schools, youth camps, adult retreats, parent groups, community organizations, corporations, and universities. Dwayne is the co–founder of the Alberta Association of School Resource Officers (AASRO) established in 1998 and co-founder of Dare to Care Inc. Life Skills in 2003.
Dwayne's "Life Synergy for Youth", "Life Synergy for Parents" and "Life Synergy for Staff" programs causes his audience to think about the power of their words and actions. Much of his work has been in a proactive role with students, assisting in making smart choices in their lives through the use of his many presentations.  Social responsibility is something that students need to be aware of on a daily basis for a life time.
Presently a member of:
IBPA -International Bully Prevention Association
CASP – Canadian Association of Suicide Prevention
CLIA – Clandestine Laboratory Investigators Association
CAPS – Canadian Association of Professional Speakers
---
With 35 years as teacher, school administrator and Director of Curriculum, Ms. Hawkins has worked extensively with teachers, administrators, support staff and parents in southern Alberta, providing professional learning opportunities. Sheryl has been described as warm, engaging, and connects with people on a personal level. She thoroughly enjoys working with children and teachers, watching them grow through their learning.
Ms. Hawkins is passionate about learning for all and believes that we all have the potential to lead and to make a positive difference in our workplace, our communities and our personal lives. She helps others see their potential for personal and professional growth by helping build skills for effective communication. This includes learning how to build relationships based on trust and respect, and working successfully with others.
Ms. Hawkins graduated from the University of Alberta (Faculté St. Jean) with a bilingual Bachelor of Education degree. She later completed her Master's in Education from the University of Portland. Sheryl spent 16 years as a classroom teacher and administrator in a French Immersion school in Sherwood Park, Alberta, before becoming a Curriculum Coordinator and later the Director of Curriculum with Lethbridge School District 51. Sheryl was also key in the success of Mount St. Agnes Academy (Bermuda) becoming an out-of-province, accredited Alberta school. She supported administration, teachers, students and parents through the 3-year process in her role as Curriculum Coordinator. Ms. Hawkins is also a facilitator/trainer of the Franklin Covey "7 Habits of Highly Effective People" and the "Leader In Me". She has trained many teachers and has supported several schools in southern Alberta as they began their "Leader In Me" journey. During the 2016-2017 school year, Ms. Hawkins took her expertise in school leadership to the Canadian International School in Abu Dhabi (United Arab Emirates) where she served as the elementary principal of 650 students. During the school year Sheryl trained 117 staff members on the "7 Habits of Highly Effective People" and supported staff and students as they learned and implemented the '7 Habits' into their daily lives. Ms. Hawkins was also invited to present at the BETT Middle East Leadership Summit where she shared her insights that ALL students have the potential to be leaders, regardless of age, academic abilities or gender. Delegate feedback from the session described Sheryl as "passionate, engaging and inspiring".
Ms. Hawkins is a mother of four grown children who make her proud every day. Sheryl enjoys living in southern Alberta, travelling, reading and witnessing her children become successful, responsible adults.