With Christmas just around the corner, many of us will take some time to reflect upon past years and the year that is about to become history. I had such an opportunity as I drove 17 hours to a conference in Denver, Colorado this November. In 2001, being the organizer of a conference, I had the opportunity to bring a teacher from Columbine High School, to share her story of the tragic events that occurred on April 20, 1999.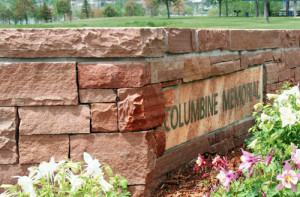 Fast forward 14 years, I was able to connect with her again, this time in Denver, over supper with her and her husband. Two days later I visited the school, now a security check scanning a drivers licence at the main office is done, which provides an instant background check. Inside, the school was like any other high school, halls filled with the chatter and bustle of students. To my amazement, seven students that were present that day of terror, are now teachers at the school. Outside, behind the school and off school property, is a public memorial site where I took a moment to pay my respects to the victims of that tragic event. On large pieces of granite, that form a broken inner circle referred to as the Ring of Remembrance, are where each of the 13 victims families painstakingly created stories, poems, or scripture to remember their loved ones. As I walked around reading the stories, I found it quite emotional as I remembered where I was as a police officer on that date. On the outside of the Ring of Remembrance was a rock wall referred to as the Columbine High School – Wall of Healing, designed to honour those involved and impacted by the tragedy. On this wall there were several quotes from staff, parents, and students. Quotes that I believe we still need to apply to our lives on a daily basis.
"I no longer take things for granted." – (student)
"The definition of normal changed on that day." – (parent)
"I used to fight all the time with my sister. I used to pick on her a lot. I don't do that anymore." – (student)
As we enter into the Christmas holidays stress levels can increase, patience is short and tempers are quick. My hope for my readers is that you will step back, take a breath and realize how fortunate we are to have such small issues compared to those that perished and those left to carry on whether it be from Columbine High School, from 9/11 and most recently France. I hope that if your issues are overwhelming that you will seek assistance, find someone to talk to see you through your time of need.
[themify_button style="large rect" color="#ee3993″ link="https://lifesynergy4youth.com/programs/" text="#fff" ]Find out about our Programs[/themify_button]