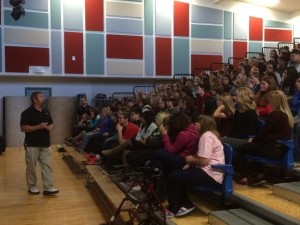 September 10 was World Wide Suicide Prevention Day.
Thanks to a partnership with Cold Lake Bully Free and Assumption Jr./Sr. High School, Life Synergy for Youth's Dwayne Peace facilitated an eye-opening presentation that shone a light on the sensitive subjects of bullying and suicide.
According to Statistics Canada, in 2009 Alberta had the fifth highest provincial suicide rate in Canada, behind Saskatchewan, Manitoba, Nova Scotia and Quebec.
The Alberta Center for Injury Control reported that in 2010 suicide was the leading cause of injury and death in Alberta, with just over 500 suicides.
Peace presented to students and teachers in the morning at Assumption and provided parents with a similar session in the evening at the Cold Lake and District Family and Community Support Services.
Peace touched upon various issues surrounding the topic of bullying. He focused on the different types of bullying, the traumatic short-term and long-term effects that victims endure and the extreme cases that lead to suicide or attempted suicide.
He also discussed the Amanda Todd case and other cases that reflected the detrimental effects of bullying.
"I think in Alberta it's around the 500 mark every year for suicides. And that's not just youth, but that's the total number of suicides among all age groups," said Peace.
Peace explained to his audiences that the most important message they can take away from the presentation is to understand that everyone has a story and they need to take the time to get to know that person's story.
"If they really took the time to get to know another student's story they'd have more compassion and understanding and respect for them. The problem is that they just don't take the time. We need to come together as a community and we need to support each other," said Peace.
Peace shared with his listeners the acronym THINK which he explained is an easy tool to increase empathy and reduce bullying.
"THINK is an acronym that stands for 'is what you're saying to somebody true, helpful, inspiring, necessary and kind'," said Peace. "And if the answer is yes to all five of those, then go ahead and say what you were going to say. If the answer is no to one of them then don't say it because you aren't lifting up or supporting that person and there's going to be a dig in there."
Peace has been a facilitator with the Dare to Care program for the last 12 years. Prior to that, he was a police officer in Calgary for 25 years. Peace says that he has saved more lives within one year of doing these presentations than he did in his 25 years with the police.
"When you change and save as many lives as I have. How can you not do this? When you get calls from parents that are like 'you saved my child's life' – it doesn't get any better than that," said Peace.
Peace hopes that his listeners continue to reflect on his presentation and help to spread the word and put an end to bullying and help prevent suicide.
"I think that parents spend a lot of time with a lot things in their lives and I know they're all very busy but I would like to see parents more engaged, especially with the older kids. Right now the kids need them and they don't think that they do but they do," said Peace.
CREDIT: Written by Celina Ip., Circulated by the Cold Lake Sun on September 14, 2015